Our Mission & Vision
The mission of Northern Park Baptist Church is to love God, to love others, and to magnify the name of Jesus Christ. The vision of our church is to glorify our God and Savior, Jesus Christ, to make true disciples throughout all the nations by means of missionary activity and support, to minister the ordinances, to edify believers, and to do all that is possible and biblically permissible to magnify the name of Jesus.
Leadership Team:
Our leadership team recognizes the authority of God, and realizes that we are shepherds who serve under the Chief Shepherd, Jesus Christ. We desire to devote ourselves to prayer and to the ministry of the Word. Our passion and goal is to equip the believers for the work of the ministry until we all attain maturity in the fullness of Christ.

Allen Pierce, Senior Pastor
Pastor Allen has been our senior pastor since June 1991. Throughou
t that time he has been a faithful bible preacher and shepherd to our flock since that time. During his free time Pastor loves to spend time with his wife, Susan and daughter Bethany.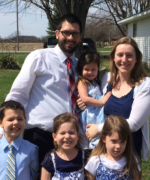 Bill Darnell, Youth Pastor
Pastor Bill's main responsibility is teaching and ministering to the youth of our church. Both Bill and his wife were saved and surrendered to the ministry as teenagers at NPBC. He is passionate about teaching the youth and helping parents equip their teens for a future of service Jesus Christ.
Please contact us at infoNPBC@gmail.com for a PDF of our full doctrinal statement.